Ramadan, or the holy month of fasting and abstinence, is feted in all Muslim countries around the world. But as the diaspora continues to grow stronger – Muslims are the only major religious group forecasted to grow faster than the world's population as a whole–brands are standing up and taking notice. Here's a look at successful Ramadan restaurant and brand promotions from a few powerful brands that welcomed the Holy Month with strong messages and even stronger promotions.
Sahur Amal 2018 bersama Pepsodent Action Herbal – Analogy & Incentive
Pepsodent Indonesia drew up an interesting analogy to invite – and excite – customers to their brand action of Ramadan 2018 toothpaste in preferred Herbal flavor. The underlying message, though a tad tricky, seemed invigorating enough to match a product's quality to the spirit of a people who revere the month and its blessings.
Pepsodent is really active on mainstream and online such as social media and pledged to donate proceeds from its Pepsodent Herbal sell to those who need for charity Sahur– the pre-dawn morning meal –.
Halo Sahabat Pepsodent! Yuk kita raih berkah dengan berbagi melalui Sahur Amal 2018 bersama Pepsodent Action Herbal! Caranya:• Beli dan kumpulkan kemasan kosong Pepsodent Action Herbal ukuran 190g di drop box terdekat• Setiap 1 kemasan kosong yang terkumpul = menyumbang 1 santapan sahur bagi yang membutuhkan • Periode pengumpulan dari 1 s/d 30 Mei 2018Yuk ikutan sahur amal 2018 bersama Pepsodent Action Herbal! Agar mulut adem, hati adem

Pepsodentさんの投稿 2018年4月27日(金)
Wingstop & Carl's Jr Makes Iftar All About Sharing
Indonesia's Wingstop and Carl's Jr. made the Ramadan evening meal a sharing event, be it with friends, family, and especially Go-food driver. Its Facebook page attracted consumers with incentives, healthy tips and the joys of bonding.
Make your Ramadan more Flavorful. Share a Flavorful Ramadan with your GoFood driver. For only 90K, Enjoy 12 Crunchy Wings for you + a Give Back Meal (3 boneless wings, rice and Frestea bottle) for your GoFood driver Special for GoFood orders until June 14, 2018. Order Now: bit.ly/WingstopOrder #Wingstop #WingstopID Share a #FlavorfulRamadan #Ramadan #GoFood

Wingstop Indonesiaさんの投稿 2018年5月17日(木)
Grab's Wins Hearts with Message of Peace & Solidarity
Grav's video commercial of a unified Muslim with profession of online-based transportation drivers and its invite for peace and solidarity hit a sweet spot. Regarding all how far the drivers are going for their daily trip, they're always coming back to one stop that connects and is a community for all the Grab and Go-jek drivers. This commercial superficially extended the message to celebrate the blessings of the Holy Month. With the happiness and closeness that Grab's bring to the table, it is make sense for them to have the #BahagiaItuDekat.
Bahagia itu sesederhana merangkul perbedaan. Apapun jalan yang dipilih.Bahagia itu berjalan bersama dalam harmoni karena di sini kita semua bersaudara. Bahagia itu dekat. Sedekat berkah Tuhan di bulan yang mulia.#BahagiaItuDekat

Grabさんの投稿 2018年5月16日(水)
Ramayana Captures One & All
Ramayana's video ad on Facebook and their other official social media accounts reflected its ubiquitous affection towards all in an endearing yet fresh way, breaking stereotypes and biases. It greeted the holy month with a simple, fun yet cool social message #KerenLahirBatin.
KFC's Midnight Call
KFC Pakistan offered valued deals for Sahur during Ramadan 2015 starting at midnight.
Coke Strikes a "No-Label" Chord
In 2015, the global beverage company beaconed the holy month with a social message – that of removing labels by abandoning its own. The campaign that ran in the Middle East during Ramadan discouraged prejudices by scraping its own logo name from the cans.
Labels are for cans, not for people was a strong message to foster a world free of stereotypes.
Ferrero Rocher Sits Tight at Heathrow
Ferrero Rocher launched its limited edition Ramadan-centric chocolates poised at London's Heathrow airport. This garnered a positive reaction from the growing Muslim population in the city and more so, of the number of Muslim passengers that transit through one of the world's busiest airports.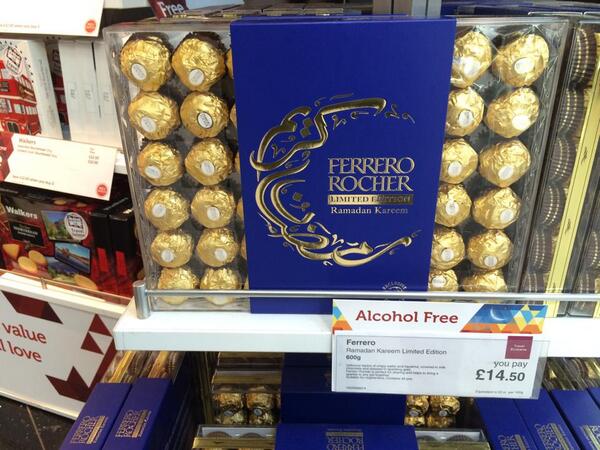 This article is created and modified to Indonesia's current circumstances and demography with the source from aaronallen.
—
Follow us on FMB Consultant social media pages: